Internet Explorer support ending
As of January 1st, 2020, PlayNow.com no longer provides browser support for IE 11. If you choose to use IE 11 we cannot guarantee you will be able to login or use the site. We advise you switch to the latest version of either Edge, Firefox or Chrome.
Roberto Luongo Charity Poker Classic raises $90,000 for Canucks for Kids Fund Tweet
Goaltender places second in tournament, Joseph Tang finishes in top spot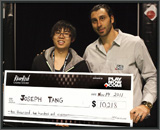 Vancouver B.C., November 17, 2011 – Poker players turned up in huge numbers to support the Roberto Luongo Charity Poker Classic. One hundred and fifty poker players each paid $500 to sit at the poker table and compete against the Vancouver goaltender at the River Rock Casino Resort Monday night.
Through registration, auction items and charity donations, $90,000 was raised in the one-night event to support hockey education, grassroots hockey programs and youth health and wellness in B.C. for the Canucks for Kids Fund.
"What a night," explained Roberto Luongo. "The players, fans and guests had a blast and it was a great opportunity to raise money for a terrific cause. Of course I would have rather finished in first place, but the inaugural event was a huge success."
Amateur Vancouver poker player Joseph Tang beat Luongo in front of hundreds of fans who stayed to watch. Tang won the $10,218 first place prize while Luongo won $6,779 and donated his prize to the Canucks for Kids Fund.
"This is by far the largest win I've ever had," said Tang. "I thought winning my weekend poker game with buddies was exciting, but now I've got bragging rights until next year's event."
Tang's friends who were in attendance were more than excited to share his winnings; dinner was on Tang following the event.
"I'm pleased this poker event was able to raise so much for the Canucks for Kids Fund," added Rhonda Garvey, Vice-President of eGaming, BCLC. "River Rock Casino Resort and everyone involved put on a top notch event from start to finish. Poker players came through with donations and I look forward to more opportunities like this one for PlayNow.com players."
"This was one of our best events of the year," said Howard Blank, Vice President, Communications, Entertainment and Responsible Gaming at Great Canadian Gaming Corporation. "For Luongo to get to the final table and outlast the likes of poker professionals Matt Jarvis and Greg Raymer shows he really has some skills with the cards. I'm sure fans are already looking forward to next year's event."
Download photos:
Image 1 JPG [365KB]
Image 2 JPG [140KB]
For more information please contact:
Chris Fairclough
Communications Officer
Direct: (604) 228-3122 Cell: (604) 341-1935
cfairclough@bclc.com