Internet Explorer support ending
As of January 1st, 2020, PlayNow.com no longer provides browser support for IE 11. If you choose to use IE 11 we cannot guarantee you will be able to login or use the site. We advise you switch to the latest version of either Edge, Firefox or Chrome.
Alabama aims to repeat as national champions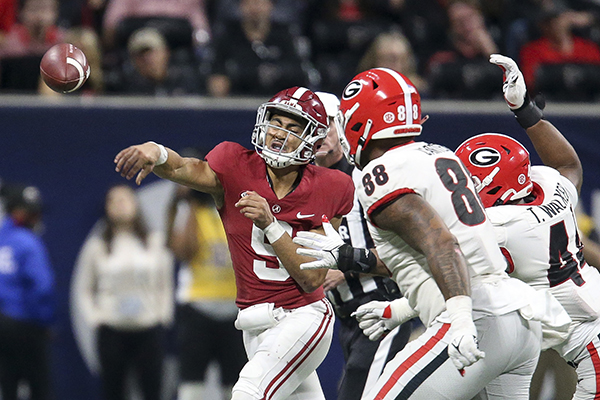 $250 Match Deposit Offer
Crimson Tide are underdogs vs. Georgia Bulldogs in the CFP National Championship game
The underdog role isn't one the Alabama Crimson Tide are used to, but that's the spot head coach Nick Saban and company find themselves in for Monday's showdown with the Georgia Bulldogs for the College Football Playoff National Championship.
As of Friday, Alabama was a three-point underdog at PlayNow.com, after the line opened with the Crimson Tide as 2.5-point underdogs. Alabama finds itself in this spot for just the second time all season – both times coming against their SEC rivals from Georgia.
Such is the case despite the fact Alabama is the defending national champion and is just over a month removed from a very impressive 41-24 victory over the Bulldogs to clinch the SEC championship in early December.
While the national championship contest doesn't go until Monday, PlayNow Sports players have been quick to jump on Alabama as the underdog. Earlier in the week, about 83.6% of money wagered was on Alabama as a 2.5-point underdog. When the line shifted later in the week, bettors once again jumped on the Crimson Tide, with about 80% of money wagered on Alabama (+3.0)
In both cases, Alabama has garnered 70% or more of total number of bets to cover.
When it comes to the moneyline, PlayNow Sports players have once again turned to Alabama, with odds of 2.25 on PlayNow.com to win the game. As of Friday, about 96% of money wagered was on Alabama to win the game, and 84% of total bets.
Georgia has put together a tremendous season, particularly thanks to their defence, which helped move them into position as the top-ranked college team for a good portion of the season. Their only blemish was in early December, when their defense was carved up by Alabama quarterback Bryce Young.
Young had a spectacular day, throwing for 421 yards and three touchdowns, and scoring a rushing touchdown of his own. More importantly – zero turnovers. Georgia took a 10-0 lead early in the second quarter of that game, but it was all Alabama after that, as the Bryce Young Show took off. It was a performance that cemented Young as the Heisman Trophy winner, and cemented Alabama's spot in the playoffs.
Georgia's defence rebounded nicely in the Orange Bowl, easily taking care of Michigan for a 34-11 victory. The Bulldogs surrendered only a field goal through the first three quarters, before giving up a late touchdown and two-point convert. By then, it didn't matter, with the result no longer in doubt.
Now, will that same Georgia defence that was so dominant for so much of the season be able to adjust and shutdown the Alabama offence in the biggest game of the year?
If not, it could be another long night for the Bulldogs and their fans.
Running and passing plays each have their purpose in a game. Each wager you make should also have a purpose: so you can enjoy the game. If you gamble, use your GameSense. Must be 19+ to play.
BCLC offers socially responsible gambling entertainment while generating income to benefit British Columbians. Remember, play for fun, not to make money. For more information, visit GameSense.com.