Internet Explorer support ending
As of January 1st, 2020, PlayNow.com no longer provides browser support for IE 11. If you choose to use IE 11 we cannot guarantee you will be able to login or use the site. We advise you switch to the latest version of either Edge, Firefox or Chrome.
Baltimore Ravens are soaring into Week 7 divisional clash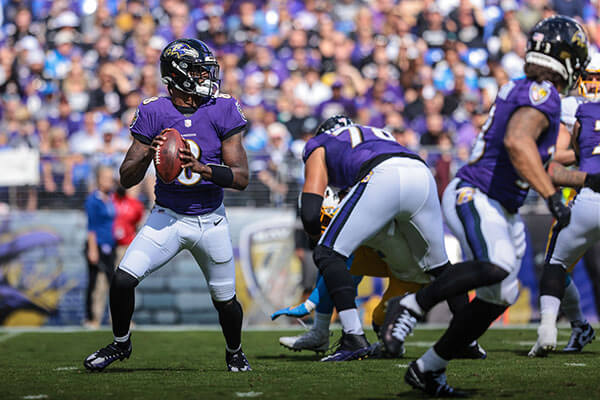 $250 Match Deposit Offer
The Ravens host the Cincinnati Bengals in an AFC North showdown on Sunday.
This season didn't exactly get off to a great start for the Baltimore Ravens.
But since a Week 1 overtime loss, the Ravens have been rolling to the tune of five consecutive wins, in a conference that appears very wide open at the moment.
They are once again perched atop the AFC North standings, heading into a divisional clash with the Cincinnati Bengals on Sunday. The Bengals are 4-2 and only one game back of Baltimore for top spot in the division, which sets the table for an important Week 7 matchup that some may not have thought possible prior to the season.
As of Thursday, the Ravens were 6-point favourites on PlayNow.com at home against Joe Burrow and the Bengals.
The Ravens are 3-0 on their home turf, but 2-1 against the spread. Their win streak has been buoyed by wins over Detroit, Denver and Indianapolis, but they should also take confidence from a great comeback win over Kansas City in Week 2 and a solid four-quarter shutdown performance against the Los Angeles Chargers last week.
Lamar Jackson has remained in the MVP conversation, with 1,686 yards passing, nine touchdown passes and five interceptions, to go with the ever-present danger he can create for opposing defences by running the ball himself. Mark Andrews remains his safety net in the pass game, but the emergence of Marquise Brown as the playmaking wide receiver has bolstered this offence.
A year ago, the Bengals didn't pose any challenge to the Ravens.
Cincinnati lost both games to Baltimore last season, by a combined score of 65-6. Lamar Jackson didn't put up lofty numbers in the pass game during either of those outings; he didn't need to. Baltimore got out to big leads and leaned heavily on their depth at running back to pound the ball on the ground, including rushing for 404 yards in Week 17.
Things, however, certainly appear to be trending in the right direction for Cincinnati entering this matchup as a road underdog.
The Bengals defence appears much stouter this season. They have given up an average of 3.9 yards per carry, which ranks them among the top 10 in the league, and they are middle of the pack for total rush yards allowed and rushing touchdowns. Through the air, this defence has only allowed 6.5 yards per pass attempt, and only six pass touchdowns allowed to five interceptions.
The Bengals were also able to push Green Bay, a contender in the NFC, to overtime only two weeks ago.
On offence, second-year quarterback Joe Burrow leads an air attack that the Ravens will certainly have to take note of entering this contest. The Bengals have scored 15 passing touchdowns this year, tied for fourth in the league. Along the ground is where they haven't been quite as impressive, averaging 3.9 yards per carry with only three rushing scores.
The Bengals have emerged as a surprise team in the NFL through six weeks, suddenly in position to challenge the Ravens for top spot in the division – at least at this juncture. The Ravens, however, have been gathering strength as an AFC contender. It promises to be a classic matchup between the up-and-comer versus the team ready to win right now.
Chiefs visit Derrick Henry and surging Titans
It's unusual to see the Kansas City Chiefs at the bottom of the AFC West, but that's where they stood as of Thursday.
Patrick Mahomes and the Chiefs (3-3-0) visit the Tennessee Titans on Sunday, looking to get above the .500 mark for the first time since Week 1.
Despite a huge win over Buffalo to cap Week 6, the Titans are 4.5-point underdogs at home against the Chiefs.
Kansas City will have the unenviable job of trying to limit running back Derrick Henry, who leads the NFL with 783 rushing yards – 260 more than second on that list, Nick Chubb – and 10 rushing touchdowns. So dominant has Henry been since Week 1, when he rushed for a paltry 58 yards on 17 attempts, that his NFL Regular Season MVP odds went from 46.00 last week at PlayNow.com to 20.00 as of Thursday.
That marks a significant jump for any player, let alone a running back.
Running and passing plays each have their purpose in a game. Each wager you make should also have a purpose: so you can enjoy the game. If you gamble, use your GameSense. Must be 19+ to play.
BCLC offers socially responsible gambling entertainment while generating income to benefit British Columbians. Remember, play for fun, not to make money. For more information, visit GameSense.com.