Internet Explorer support ending
As of January 1st, 2020, PlayNow.com no longer provides browser support for IE 11. If you choose to use IE 11 we cannot guarantee you will be able to login or use the site. We advise you switch to the latest version of either Edge, Firefox or Chrome.
Bettors continue to back Lightning over the Maple Leafs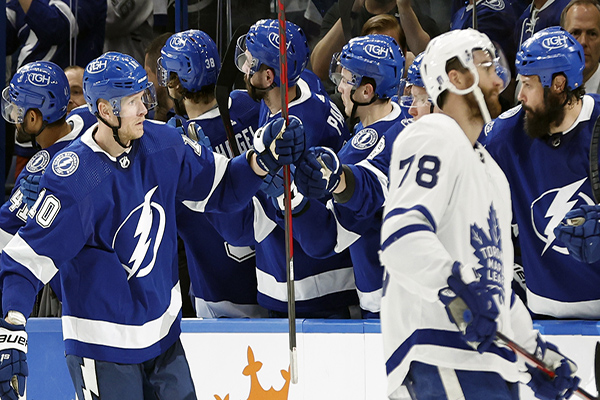 $250 Match Deposit Offer
It has been one blow-out after another in this series between Atlantic Division foes
It has been bitter and nasty – and wildly unpredictable.
The pre-series chatter between the Toronto Maple Leafs and Tampa Bay Lightning of this series being particularly bruising and violent has certainly come to fruition. Not sure, though, if anyone could've foreseen such a volatile scene playing out on the scoreboard from one game to the next.
The closest margin of victory for a single game in this series has been two goals. In each contest, one team has been able to firmly grasp the lead and never look back. This series is a microcosm of these entire playoffs, in which trying to forecast what could happen one game to the next has been a mostly futile venture.
On Sunday, the Maple Leafs had a chance to get a win in Game 4 of this first-round series and put the two-time defending Stanley Cup champs from Tampa Bay on the ropes as the series shifts back to Toronto for Game 5.
Instead, the Maple Leafs surrendered three goals before Sunday's game was even eight minutes old and ended up losing 7-3. The Bolts tied the series at 2-2, with a critical Game 5 matchup in Toronto on Tuesday.
PlayNow Sports players have mostly been on the Lightning to win this series from the time odds went up prior to the start of the post-season. About 87% of handle and 77% of bets are currently on Tampa Bay to win this series. The Bolts entered the series as underdogs to defeat the Maple Leafs and advance.
PlayNow Sports players clearly saw value on a Lightning team that was labelled as the series underdog despite winning back-to-back championships and facing a Maple Leafs squad that, while immensely talented and led by a generational scorer in Auston Matthews, had not won a playoff round since 2004.
As of Monday, the Lightning had odds of 2.00 at PlayNow.com to win this series and advance to the second round. Compare that to the Maple Leafs with odds of 1.83 to win the series.
The Maple Leafs currently have the third best odds to win the Stanley Cup, sitting at 10.50 on PlayNow.com as of Monday. Meanwhile, the Lightning have odds of 12.00 to win it all.
In terms of these two teams, PlayNow Sports players continue to give a little more to the Tampa Bay side, with 5.8% of bets and 5.4% of handle on the Bolts, compared to 4.2% of bets and 5.2% of handle on the Maple Leafs, as of Monday morning.
The Calgary Flames and Edmonton Oilers continue to garner the largest share of outright bets and handle. About 11% of handle and 9.2% of bets was on Calgary to win the Stanley Cup, while 10% of the handle and 8% of bets is on Edmonton.
The Oilers and the underdog Los Angeles Kings are tied 2-2 in their first-round series as it goes back to Edmonton for Game 5 on Tuesday. As of Monday, the Flames trailed their first-round series 2-1 to the Dallas Stars.
With the Maple Leafs and Oilers deadlocked in their respective series, and the Flames entering Monday's game down 2-1 in their series, the odds on a Canadian team to win the Stanley Cup shifted from 4.00 at the end of last week to 5.00 on PlayNow.com as of Monday.
Not every shot is a goal. Not every bet is a winner. If you gamble, use your GameSense. Must be 19+ to play.
BCLC offers socially responsible gambling entertainment while generating income to benefit British Columbians. Remember, play for fun, not to make money. For more information, visit GameSense.com.