Internet Explorer support ending
As of January 1st, 2020, PlayNow.com no longer provides browser support for IE 11. If you choose to use IE 11 we cannot guarantee you will be able to login or use the site. We advise you switch to the latest version of either Edge, Firefox or Chrome.
Buffalo Bills look to rebound after brutal loss to lowly Jaguars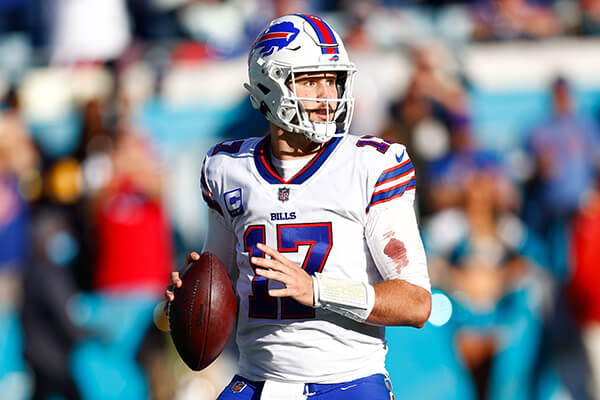 $250 Match Deposit Offer
Josh Allen and the Bills are heavy favourites - again - against the Jets in Week 10
The Buffalo Bills versus the Jacksonville Jaguars – it certainly looked like it would be an easy win for the aforementioned Bills in Week 9. It turned into one of the most embarrassing losses of the season for a team with hopes of contending for a Super Bowl.
The Bills went into Jacksonville favoured by 14.5 points. That was the third time this season they had been favoured by 10 points or more against an inferior AFC opponent. While they covered as a nearly 20-point favourite against Houston and won by 15 points against Miami on Halloween, the Bills not only didn't cover against the Jags, they lost the game outright by a score of 9-6.
That's a loss to the same Jacksonville team that entered the week with only one win on the season, and rumours flowing about the potential for Urban Meyer to be a one-and-done head coach in the NFL.
A loss to Jacksonville on its own is bad. Scoring only six points is an entirely different story.
And now for the third consecutive week, the Bills are a double-digit favourite.
This time at PlayNow.com, Buffalo is favoured by 12.5 points against the New York Jets, another team with a 2-6 record, taking space in the bottom of the AFC standings, and concerns still at quarterback despite the growing folk hero status of Mike White in a small sample size these past three weeks.
The Bills will no doubt be hungry to rebound from such a dismal effort against the Jaguars last week. They should now also hear the footsteps of the New England Patriots, who have won three in a row and four of their last five games to move within a half game of Buffalo for first place in the AFC East.
Quarterback storylines dominate Seahawks vs. Packers showdown
Russell Wilson made headlines this week when it was revealed he was cleared to play, one month after the Seahawks quarterback underwent surgery on his injured finger, suffered against the L.A. Rams on Oct. 7.
The Seahawks have lost three of their last five games, including going 1-2 with Geno Smith operating as the starting quarterback in Wilson's absence. Seattle would need to turn things around quickly to get back into the playoff picture as a serious contender, and perhaps getting Wilson back under centre – potentially as the starter this week against Green Bay – can help turn things around.
Now, on the other side, there still seems to be some question about whether Aaron Rodgers will play Sunday.
The Packers quarterback tested positive for COVID 19 last week, and because he is unvaccinated, he would be required to self-isolate for at least 10 days. Because he tested positive on Nov. 3, the 10-day period would push his potential return to activities to Saturday at the earliest – one day before kickoff against the Seahawks.
Jordan Love, the Packers' first-round pick in 2019, started in place of Rodgers last week against Kansas City. Love completed 19 passes on 34 attempts, for 190 yards, one touchdown and one interception.
Green Bay lost last week, snapping a seven-game win streak.
Seattle was, as of Friday, a 3.5-point underdog.
Heating up? Chiefs are road favourites against Raiders
The Kansas City Chiefs have won two in a row, heading into a Week 10 matchup with the Las Vegas Raiders.
The Chiefs were favoured at PlayNow.com on Friday by 2.5 points. The Raiders are 2-3 in their last five games, but are still tied with the L.A. Chargers for top spot in the AFC West with identical 5-3 records.
All four teams in the division have five wins each, and despite an offence struggling compared to years past, Kansas City can take back control of its own destiny in the division race as we enter the back half of the season.
Kansas City is 2-7 against the spread this season. The Raiders are 4-4 ATS this season, but with a 3-1 record straight up at home.
Gambling without a budget is like playing without a helmet. Set a budget and stick to it. If you gamble, use your GameSense. Must be 19+ to play.
BCLC offers socially responsible gambling entertainment while generating income to benefit British Columbians. Remember, play for fun, not to make money. For more information, visit GameSense.com.