Internet Explorer support ending
As of January 1st, 2020, PlayNow.com no longer provides browser support for IE 11. If you choose to use IE 11 we cannot guarantee you will be able to login or use the site. We advise you switch to the latest version of either Edge, Firefox or Chrome.
Cardinals clash with Rams in NFC West showdown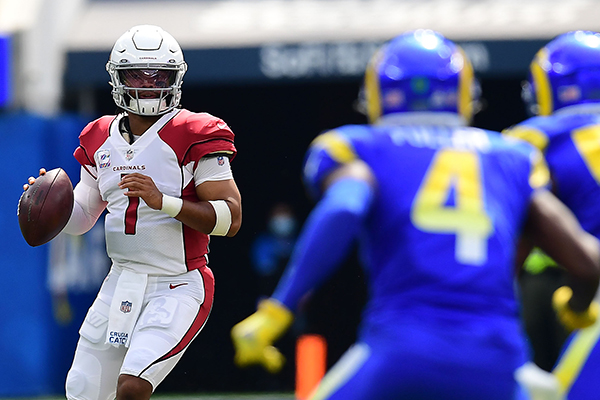 $250 Match Deposit Offer
Arizona is currently favoured at home in a pivotal matchup against its division rival
The Arizona Cardinals weren't given much of a chance to win the NFC West – at least that was according to pre-season odds.
The team to beat, at the time, was the Los Angeles Rams.
Now here we are, in the middle of December, and the Cardinals have a chance on Monday to put even more ground between them and the Rams in the division with a win. A win would also officially clinch a playoff berth for Arizona.
The Cardinals already hold the advantage over the Rams going into the Monday night game. Kyler Murray and company soundly defeated the Rams – in Los Angeles – in October and a win over the Rams to cap off Week 14 would give Arizona a sweep in the season series.
The Cardinals began the season with a seven-game winning streak, suddenly turning from potential dark horse to make the playoffs, into a Super Bowl contender. They sit atop the NFC with a 10-2 record, two games better than the Rams with five games remaining on their respective regular season schedules.
The Cardinals were, as of Friday on PlayNow.com, favoured at home by 2.5 points. Arizona has covered the spread in nine of 12 games this season. The favourite has gone 8-1-1 against the spread in the last 10 meetings between these teams.
The key for the Rams on defence will be trying to contain third-year quarterback Kyler Murray, who has risen up the board into a formidable contender for the NFL regular season MVP, though an ankle injury did sideline him for three games before his big return last week against Chicago.
Murray put together an impressive performance against the Rams in Week 4, throwing for 268 yards, two touchdowns and zero interceptions, while completing 75% of his passes. He also ran six times for 39 yards, helping lead Arizona to a 17-point victory over their division rivals.
After getting out to a 7-1 start to the season, the Rams have hit a bumpy patch, with one win in their last four games. L.A. has high expectations this year, with the Super Bowl taking place at SoFi Stadium in Inglewood, Calif., but they're certainly behind the pace in the lead for the division, while quarterback Matthew Stafford had struggled during the Rams' three-game losing skid last month, throwing five interceptions in that span.
The Rams may have gotten an easier game on their schedule last week, easily taking care of a beleaguered Jacksonville Jaguars team.
But the Cardinals will provide a much stiffer test. Not only do they possess a dynamic offence, but the Cardinals have only given up an average of 18.7 points against per game, to go along with a +12 turnover differential.
Running and passing plays each have their purpose in a game. Each wager you make should also have a purpose: so you can enjoy the game. If you gamble, use your #GameSense. Must be 19+ to play.
BCLC offers socially responsible gambling entertainment while generating income to benefit British Columbians. Remember, play for fun, not to make money. For more information, visit GameSense.com.