Internet Explorer support ending
As of January 1st, 2020, PlayNow.com no longer provides browser support for IE 11. If you choose to use IE 11 we cannot guarantee you will be able to login or use the site. We advise you switch to the latest version of either Edge, Firefox or Chrome.
Turning it around: Kansas City Chiefs look to extend win streak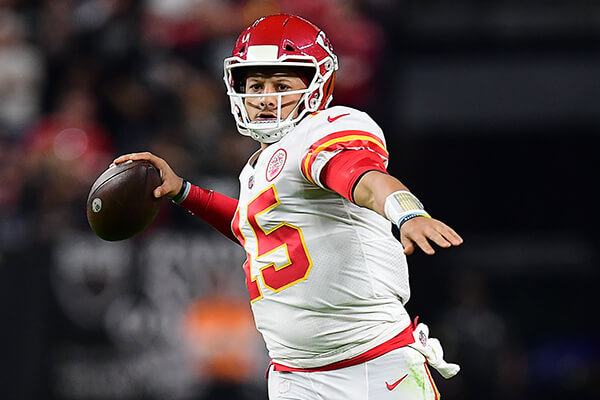 $250 Match Deposit Offer
Chiefs are favoured at home against the Dallas Cowboys in a highly anticipated Week 11 matchup
You could understand if confidence in the Kansas City Chiefs was beginning to waver.
The Chiefs have understandably set the bar quite high over the past few years, with Patrick Mahomes leading that high-flying offence to three consecutive AFC Championship games, a Super Bowl title and another Super Bowl appearance last winter.
But the 2021-22 edition on a whole has lacked that same firepower. The results through seven weeks of the season were, at best, that of an inconsistent ball club forced to adjust to how opposing teams defended against them. At the worst, one could've begun the argument that the end of their championship window was closing rapidly, and new powers in the AFC were taking hold.
Since an embarrassing 27-3 loss to the Titans in Week 7, Kansas City has won three straight games – against the New York Giants, Green Bay Packers and Las Vegas Raiders.
The win against the Giants likely didn't do much to inspire confidence in Kansas City. The win against Green Bay came with Aaron Rodgers sidelined due to COVID 19. But the win against Vegas was their most complete in quite some time, as they defeated the Raiders 41-14, with Mahomes throwing five touchdown passes on 406 yards through the air.
Vintage Mahomes, indeed.
This week, Kansas City is home to the Dallas Cowboys.
The Chiefs opened at -1.5 on PlayNow.com, but that line quickly shifted to -2.5 by Tuesday afternoon, where it remained toward the end of the week.
There is anticipation for a potentially high-scoring game between these teams, as well, with the Total set at 56.0 as of Thursday. That is currently the highest total on the board for the Week 11 games.
The Chiefs offence had struggled in the three previous weeks prior to this past Sunday, with Mahomes producing as many turnovers as he did touchdown passes. Three times this season, he has thrown multiple interceptions in one game. He did that only once last year, and was picked off only six times all of last season. He's been intercepted 10 times already this year.
But his performance against the Raiders in prime time last week will likely instill confidence in this offence going into a matchup with the Cowboys. The win puts Kansas City back atop the AFC West with a 6-4 record. Their outright odds to win a championship this year also shifted from 13.00 at PlayNow.com on Nov. 9 to 11.00 earlier this week.
Odds on Mahomes to win NFL MVP have also shifted, rather significantly. He pre-season favourite to win the award, Mahomes' odds to win NFL MVP were 51.00 on PlayNow.com a week ago. After that mammoth performance against Vegas? The odds shifted to 19.00 for Mahomes to win MVP.
Dallas can certainly put a lot of points on the board, but there should be heightened focus on stopping Kansas City's offence, which may be showing signs of rejuvenation following some earlier lackluster performances.
The Cowboys have allowed 20.3 points against per game, which puts them in the top third of NFL teams on defence. They've been able to produce 14 interceptions, which is something the Chiefs will have to note going into this matchup.
To his credit, Mahomes has cleaned up the turnovers in his game, going back-to-back outings without an interception going into this week. Now, can he follow that up with another turnover-free game against a Cowboys defence that has had no issues picking off opposing quarterbacks.
Dallas is 8-1 against the spread this season, including 4-0 on the road. Meanwhile, the Chiefs are 3-7 against the spread this season, including 0-5 against the closing line at home. In four of those games at home, Kansas City was favoured by 5.5 points or more.
Gambling without a budget is like playing without a helmet. Set a budget and stick to it. If you gamble, use your GameSense. Must be 19+ to play.
BCLC offers socially responsible gambling entertainment while generating income to benefit British Columbians. Remember, play for fun, not to make money. For more information, visit GameSense.com.