Internet Explorer support ending
As of January 1st, 2020, PlayNow.com no longer provides browser support for IE 11. If you choose to use IE 11 we cannot guarantee you will be able to login or use the site. We advise you switch to the latest version of either Edge, Firefox or Chrome.
Rams favoured in Super Bowl matchup with Bengals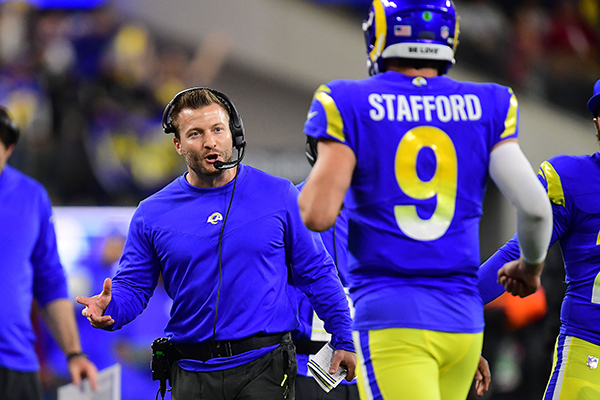 $250 Match Deposit Offer
Do bettors believe the Bengals can cap off their Cinderella story with a Hollywood ending?
At the start of the season, if someone had said the Los Angeles Rams were going to the Super Bowl, most football fans probably would've agreed that, at the very least, there was a very good chance, and it would not at all be a surprise.
They have been among the favourites from the time betting opened on NFL Futures for the 2021-22 season. They're only a few years removed from a Super Bowl appearance. And the Rams felt they upgraded at quarterback enough to put them back in contention, with the acquisition of Matthew Stafford from Detroit.
The Cincinnati Bengals, on the other hand…
They were pre-season long shots. In fact, they were among the pre-season favourites at PlayNow.com to finish with the worst regular season record in the NFL. Their Over/Under for total team wins? That was set at 6.5 – a bar indicative of a team many believed wouldn't be in the playoff fight.
Odds on the Bengals to win the Super Bowl on Sept. 8 were 126.00 at PlayNow.com.
They are the quintessential Cinderella story. Against all odds, they are here, with a second-year quarterback in Joe Burrow who just over a year ago suffered a torn ACL and MCL, set to face the Rams on Sunday for the Super Bowl.
As of Thursday, the Rams were favoured by four points at PlayNow.com. The Bengals, meanwhile, have excelled in the underdog role, and a number of PlayNow Sports players believe they can continue that on Sunday.
As of Thursday, 62% of money and 54% of bets were on the Bengals (+4) to cover the spread.
The Rams opened as four-point favourites, but the biggest movement so far has come with the Total. The line opened at 50.0, but quickly moved down to 48.5 the day after the matchup was set. The Under is 4-0 in Cincinnati's last four games, but only 39% of money and 42% of bets are on the Under.
SUPER BOWL MVP
Veteran quarterback Matthew Stafford is currently the favourite to be named Super Bowl MVP, with odds of 2.00 at PlayNow.com as of Thursday. He's followed by Bengals quarterback Joe Burrow, with odds of 3.20.
Stafford has been impressive in these playoffs, particularly in his previous two games against Tampa Bay and San Francisco. Stafford has thrown for 905 yards in these playoffs, for six touchdowns and just one interception.
Stafford, 34, had his ups and downs in the back half of the season, specifically three consecutive games in which he threw multiple interceptions. But he's limited turnovers in this post-season, and that will be critical in a one-game, winner-take-all situation on Sunday.
This offence is certainly equipped with plenty of talent for Stafford, and that leads to Cooper Kupp as another interesting option for MVP.
Meanwhile, Burrow has been solid, throwing for 842 yards, four touchdowns and two interceptions in these playoffs. How will he fare, though, against the Rams defence?
Burrow has been sacked 12 times in these playoffs, and the Rams certainly like to bring pressure, which will add another layer into how the Bengals offence plans to operate on Sunday.
If Burrow did win Super Bowl MVP – and he has big-game experience, winning a national championship with LSU before being taken first overall in the 2020 NFL Draft – it would cap off a remarkable individual comeback – not to mention turning the Bengals into one of the best Cinderella stories in sports in a long time.
Popular Player Props – Cooper Kupp Total Receiving Yards
Is there a defence that can stop Cooper Kupp? One game left to go, and most others have failed, so it's now the Cincinnati Bengals that are tasked with shutting down the Rams top receiver.
Cooper Kupp total receiving yards is currently set at Over/Under 106.5 at PlayNow.com. He's gone from being a solid, reliable option to nearly unstoppable over the course of his five NFL seasons, leading the league with 1,947 yards receiving in the 2021-22 regular season.
Regular season and playoffs combined, Kupp has recorded at least 100 yards receiving in 13 games for this campaign. That includes games of 183 yards on nine catches versus Tampa Bay, and 142 yards on 11 catches against San Francisco on the road to Super Bowl.
He's also scored at least one touchdown in eight of his last nine games played.
Running and passing plays each have their purpose in a game. Each wager you make should also have a purpose: so you can enjoy the game. If you gamble, use your GameSense. Must be 19+ to play.
BCLC offers socially responsible gambling entertainment while generating income to benefit British Columbians. Remember, play for fun, not to make money. For more information, visit GameSense.com.