Internet Explorer support ending
As of January 1st, 2020, PlayNow.com no longer provides browser support for IE 11. If you choose to use IE 11 we cannot guarantee you will be able to login or use the site. We advise you switch to the latest version of either Edge, Firefox or Chrome.
Seattle Seahawks outright odds tumble with Russell Wilson injury.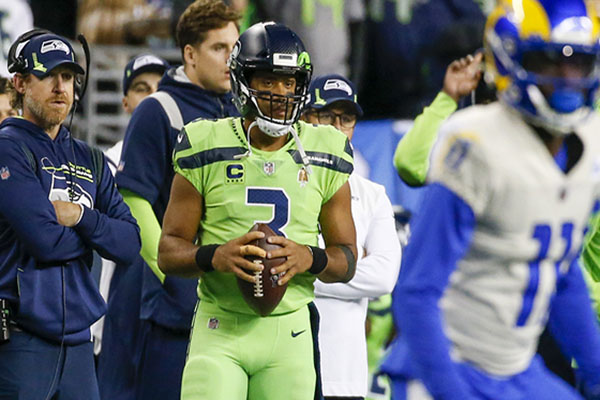 $250 Match Deposit Offer
Seahawks are road underdogs against the Pittsburgh Steelers in Week 6.
The Seattle Seahawks are facing adversity head-on right now, following news last week that quarterback Russell Wilson is out six-to-eight weeks with an injured finger.
The Seahawks lost Wilson in the second half of their Week 5 showdown with the Los Angeles Rams, after he suffered a ruptured tendon and fracture-dislocation of his middle finger on his throwing hand. He underwent surgery the next day and will now miss significant time as a result of the injury.
That has had a major impact on the outright odds of the Seahawks winning a championship this season.
The Seahawks had a 2-2 record going into last week's game with L.A. They ultimately lost that game, falling to 2-3 on the season. The loss of Wilson is likely to have a significant impact on their offence, and as a result, Seattle's outright odds went from 23.00 on PlayNow.com heading into their Week 5 matchup, to 51.00 going into Week 6.
With Wilson out, Geno Smith will take over the duties of the starting quarterback.
In relief of Wilson last week, Smith had some promising moments, completing 10 passes on 17 attempts for one touchdown and one interception.
The Seahawks visit the Pittsburgh Steelers in the Sunday night game. As of Thursday morning, Seattle was a five-point underdog against a Steelers team that sits with an identical 2-3 record and have questions of their own on offence that they would like to answer with a win this week.
Josh Allen moves up board for NFL MVP
We're only in Week 6, but the battle for the NFL Regular Season MVP award is shaping up to be a classic, with a number of player performances impacting the odds at the conclusion of last week.
Welcome Josh Allen to the conversation.
The Bills quarterback began the season tied with Tom Brady for the third best odds (13.00) to win MVP on PlayNow.com. There has, however, been a sizable shift in those odds, from 12.00 back on Sept. 21 to 5.50 at PlayNow.com on Tuesday morning.
Allen's star has been on the rise with bettors throughout the season.
As of Thursday, 18.4% of money wagered on the NFL MVP market was on Allen – the highest share of handle on one player – and 13.5% of bets. That leads all candidates on the board, followed by pre-season favourite Patrick Mahomes at 14.3% of handle and 11.1% of bets.
That puts Allen together with Kyler Murray, the dynamic Arizona Cardinals quarterback, as the frontrunners. Allen isn't the only quarterback to trend upward in this market.
Dak Prescott's MVP odds have shifted from 17.00 on Sept. 14, to 8.00 at the conclusion of Week 5. The play of the Cowboys QB has helped Dallas reel off four straight wins, after nearly upsetting defending champion Tampa Bay in the season opener.
The same goes for Los Angeles Chargers quarterback Justin Herbert, who has thrown for 1,576 yards, 13 touchdowns and only three interceptions. The Chargers now lead the AFC West over the once-favoured Kansas City Chiefs, with a 4-1 record.
Lamar Jackson forced his way back into the MVP conversation after that sensational second half against Indianapolis on Monday night. Despite a shaky first half, Jackson went off in the second half, ultimately throwing for 442 yards and four touchdowns, helping Baltimore roar back to win 31-25 in overtime.
Meanwhile, Mahomes' MVP odds fell from 8.00 to 11.00 heading into this week's slate of games, as Kansas City's offence has been hit or miss at times, and the Chiefs currently sit 2-3 – last in the AFC West.
Running and passing plays each have their purpose in a game. Each wager you make should also have a purpose: so you can enjoy the game. If you gamble, use your GameSense. Must be 19+ to play.
BCLC offers socially responsible gambling entertainment while generating income to benefit British Columbians. Remember, play for fun, not to make money. For more information, visit GameSense.com.