Internet Explorer support ending
As of January 1st, 2020, PlayNow.com no longer provides browser support for IE 11. If you choose to use IE 11 we cannot guarantee you will be able to login or use the site. We advise you switch to the latest version of either Edge, Firefox or Chrome.
Seattle Seahawks still a popular bet!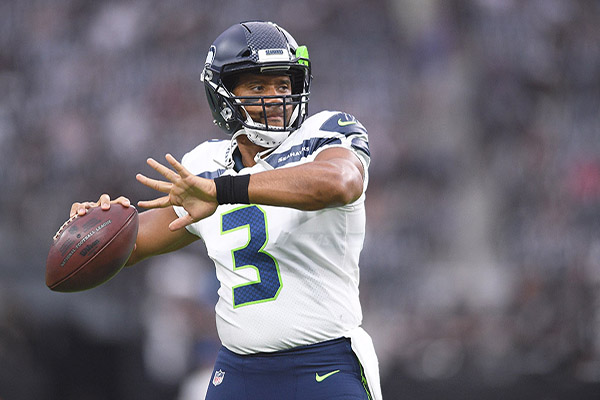 $250 Match Deposit Offer
Seahawks have odds on PlayNow.com of 21.00 to win the Super Bowl.
There was drama in Seattle this offseason, and there were changes, too.
It centred on quarterback Russell Wilson, as trade speculation began swirling around Seattle's franchise quarterback following another lackluster end to the season for the Seahawks.
Seattle didn't waste any time letting go of offensive coordinator Brian Schottenheimer after the Seahawks were ousted in the NFC Wild Card round by their rivals, the L.A. Rams. The Seahawks offence, which looked nearly unstoppable until the midway point of the season, sputtered down the stretch and into the playoffs.
The drama didn't end there, as the spring was full of trade speculation involving Seattle's quarterback. Wilson, now 32 years old, made a strong case for MVP through the first seven weeks of the season, but the Seahawks offence struggled down the stretch.
Now we look ahead to 2021.
Wilson has returned to Seattle.
They have a new offensive coordinator in Shane Waldron.
And in between, this offence brings back Tyler Lockett, stud receiver D.K. Metcalf, and running back Chris Carson. All three will be counted upon for the bulk of the offence this season.
But after such an offseason, it can be hard to gauge how good or bad the Seahawks might be in 2021-22.
This is likely a product of geographic proximity to Seattle, but some PlayNow Sports players are backing Seattle to contend for a championship. Seattle's odds of winning the Super Bowl are 21.00 at PlayNow.com, which puts them ninth on the board. As of Tuesday, about 5.7% of money wagered and 5.6% of bets placed on the Super Bowl outright market were on Seattle.
In terms of money wagered, that puts Seattle sixth on the board, just behind the Rams and slightly ahead of the San Francisco 49ers.
Pre-season Total Wins for the Seahawks was set at 9.5, with odds of 1.71 on the Over. As of Wednesday, 94.5% of money wagered was on the Over 9.5 total wins for Seattle. To make the playoffs, however, some PlayNow Sports players are backing them to miss out altogether, at odds of 1.95. About 48% of money wagered on that market is on Seattle to miss the postseason.
At the end of the day, it will all come back to the play of Russell Wilson.
Can he get enough protection from the offensive line to deliver an MVP-calibre season?
Can he excel within a new offensive system?
Will this offence be able to adjust once opposing defences adjust to them through the season?
Wilson was absolutely shredding opposing defences at the start of last season. He had thrown 19 touchdown passes through the first five games, and only three interceptions. Those were MVP numbers – if the season ended after six weeks. But things started going off the rails in Week 7 and Seattle's offence just could not adjust late in the season.
Wilson's odds to win MVP were 17.00 at PlayNow.com entering this season. About 7.4% of money was on Wilson to win MVP, and almost 11% of bets.
Of course that may change if Wilson gets off to a hot start.
The Seahawks open the season on Sunday on the road against the Indianapolis Colts. Seattle was, as of Wednesday, 2.5-point favourites.
Running and passing plays each have their purpose in a game. Each wager you make should also have a purpose: so you can enjoy the game. If you gamble, use your GameSense. Must be 19+ to play.
BCLC offers socially responsible gambling entertainment while generating income to benefit British Columbians. Remember, play for fun, not to make money. For more information, visit GameSense.com.