Internet Explorer support ending
As of January 1st, 2020, PlayNow.com no longer provides browser support for IE 11. If you choose to use IE 11 we cannot guarantee you will be able to login or use the site. We advise you switch to the latest version of either Edge, Firefox or Chrome.
Sizable shift in Denver Broncos NFL Outright odds after Russell Wilson trade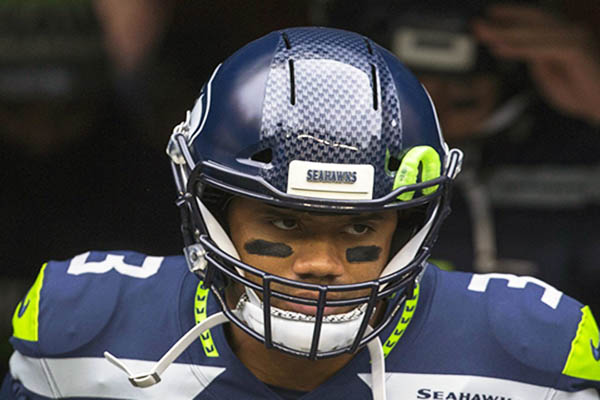 $250 Match Deposit Offer
This week's blockbuster deal means the end of an era for Seattle Seahawks
Russell Wilson's time in Seattle is now finished.
On Tuesday, the Seattle Seahawks sent the nine-time Pro Bowl quarterback to the Denver Broncos for a trio of players, including quarterback Drew Lock, two first-round picks, two second-round picks and a fifth-round pick.
Dealing their star quarterback seemed like it was two years in the making, but this week's trade officially meant the end of an era for the Seahawks, who won a Super Bowl in 2014 with Wilson behind centre. Soon to be 34 years of age, Wilson joins a very talented Broncos offence desperately in need of a better quarterback to take them to the next level.
The move had an immediate impact on the NFL Outright odds at PlayNow.com .
The 2022-23 outright odds opened last month, with the Broncos at odds of 23.00 to win the Super Bowl, despite not making the playoffs this past season. After acquiring Wilson, Denver's odds to win the Super Bowl shifted Tuesday to 13.00 at PlayNow.com.
Meanwhile, the Seahawks are clearly in the midst of a rebuild. Previously without a first-round pick for this year, trading Wilson gives Seattle a much-needed first-round pick for the 2022 NFL Draft, as well as a first-round pick from Denver for next year.
Lock, 25, would appear to be the early front-runner to be Seattle's starting quarterback in Game One of the 2022-23 regular season, with odds of 1.67 at PlayNow.com . Malik Willis is second on that list, with odds of 4.00 to be the Seahawks starting QB in Game One next season.
The Seahawks now sit with the ninth overall pick this year.
Willis, out of Liberty University, is a very intriguing prospect and currently the second highest ranked quarterback ahead of next month's draft. Could he be available at No. 9? And if the Seahawks selected him, what impact could that have on the battle for the starting job when camp rolls around later this summer?
Canucks trade specials now available
The NHL Trade Deadline is quickly approaching, and the Vancouver Canucks face some difficult decisions ahead of March 21.
Trade rumours have been circulating around Canucks players for months, but Vancouver has played much better since Bruce Boudreau took over behind the bench, and suddenly the local NHL club is in a fight for the playoffs.
Tyler Motte, the Canucks pending unrestricted free agent, is favoured to get traded before or at the deadline, with odds of 1.62 on PlayNow.com as of Wednesday . He's followed by Brock Boeser to be traded at odds of 1.95.
J.T. Miller's odds currently stand at 3.50 to be traded. Of all Vancouver's players mentioned in trade speculation these past few months, the veteran forward is the most likely to garner the greatest return for the Canucks. Miller has scored 22 goals and 63 points in 55 games this season.
The current total for how many players will get traded on NHL Trade Deadline Day is 35.5, with odds of 2.00 on the Over.
Gonzaga favoured to win NCAA Basketball national title
Let the madness begin! The NCAA Tournament begins next week, with Gonzaga currently the favourite to win the national championship with odds of 4.75 at PlayNow.com .
As of last week, more than 16% of handle and 10% of bets were on the Bulldogs to win. Last year, Gonzaga was denied a perfect season after losing to Baylor in the national championship game.
Coaches manage players' time if they are in foul trouble. Manage your wagering time to keep you having fun and in the game. If you gamble, use your GameSense. Must be 19+ to play.
BCLC offers socially responsible gambling entertainment while generating income to benefit British Columbians. Remember, play for fun, not to make money. For more information, visit GameSense.com.