Internet Explorer support ending
As of January 1st, 2020, PlayNow.com no longer provides browser support for IE 11. If you choose to use IE 11 we cannot guarantee you will be able to login or use the site. We advise you switch to the latest version of either Edge, Firefox or Chrome.
Ageless Tom Brady now favoured to win NFL MVP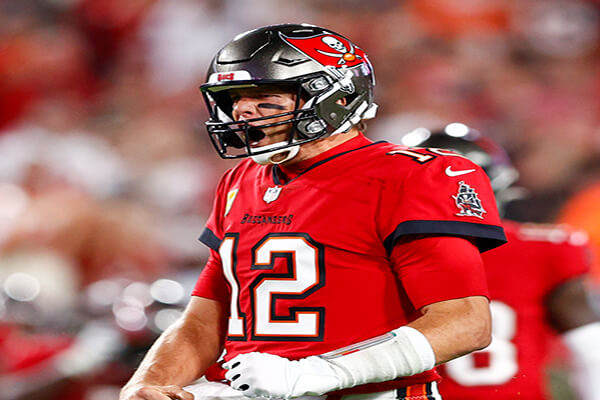 $250 Match Deposit Offer
Chiefs QB Patrick Mahomes and Colts RB Jonathan Taylor have made significant jumps in MVP odds
The race to win the NFL regular season Most Valuable Player award is heating up, with a number of contenders making big moves up the board in recent weeks.
Tom Brady of the Tampa Bay Buccaneers is currently the favourite at PlayNow.com, followed by Buffalo Bills quarterback Josh Allen. There has been considerable intrigue with the market in recent weeks, as we enter the stretch drive of the regular season.
Tom Brady | Tampa Bay Buccaneers
At the age of 44, Tom Brady continues to defy Father Time. The legendary quarterback is having another spectacular season with no clear signs of drop-off in his play or production.
Brady has thrown for 3,177 yards this season, for 29 touchdowns and only eight interceptions, which has put him in position as the favourite to be named MVP, and helped Tampa Bay get back atop the NFC South.
As of Friday, Brady's odds to win MVP were 3.50 at PlayNow.com. He began the season with odds of 13.00 to win MVP and has been steadily moving up the board, taking over top spot following Monday's win over the New York Giants.
There have been hiccups along the way. Brady and the Buccaneers weren't particularly sharp in back-to-back losses to the New Orleans Saints and Washington Football Team, with Brady turning the ball over a combined five times in those two outings.
That said, the bulk of Brady's work this season has been impressive, all the more considering his age.
The Buccaneers visit the Colts on Sunday. Tampa Bay was, as of Friday, favoured by three points.
Patrick Mahomes | Kansas City Chiefs
Of the four years Patrick Mahomes has been a starting quarterback for the Chiefs, this has been by far the most turbulent.
Super Bowl champs in 2020 and the runner-up in 2021, the Chiefs posted an underwhelming 3-4 record through the first seven weeks of this season, including a 24-point loss to Tennessee and an 18-point loss to Buffalo, two contenders in the AFC.
Mahomes didn't look great, either. On three occasions, he had thrown multiple interceptions in one game, and it appeared as though opposing defences had figured out ways to limit the Chiefs once potent offence. The pre-season favourite to win MVP, the odds on Mahomes winning the award went from 6.00 on PlayNow.com back on Sept. 9, to 41.00 on Oct. 26.
The conversation has since changed. Kansas City has won four games in a row, and the odds on Mahomes winning MVP have shifted back to 11.00 at PlayNow.com. His performance in Week 10 – 406 yards passing, five touchdowns and zero interceptions – had a lot to do with the shift.
Mahomes has thrown for 3,200 yards passing, 25 touchdowns and 11 interceptions..
As of Wednesday, 9.75% of bets for the MVP market were on Mahomes. Just over 12% of handle is on Mahomes to win MVP.
The Chiefs are on their bye week.
Jonathan Taylor | Indianapolis Colts
Jonathan Taylor was a complete long shot to win MVP, with odds on PlayNow.com of 151.00 for most of the season – and then BAM! He puts up 185 yards rushing, four rushing touchdowns, three catches for 19 yards and a receiving touchdown against the Buffalo Bills in Week 12, and now he's among the MVP contenders.
Taylor now has odds of 13.00 on PlayNow.com to win MVP. In the first five weeks of the season, Taylor had one game in which he rushed for 100 yards or more. The Colts had a record of just 1-4 in that time.
Since Week 5, Taylor has rushed for 100 yards or more in five of the last six games. On three occasions, he has rushed for 140 yards or more. On two of those occasions, he rushed for 170 yards or more. The Colts have won five of those six games (in that loss, Taylor rushed for only 70 yards) and their star running back has scored 12 touchdowns.
As of Wednesday, 1.9% of bets and 2.1% of handle was on Taylor to win MVP.
Overtime is exciting to watch but if your wagering behaviour has you constantly on the edge of your seat, it may be time to take a break. If you gamble, use your GameSense. Must be 19+ to play.
BCLC offers socially responsible gambling entertainment while generating income to benefit British Columbians. Remember, play for fun, not to make money. For more information, visit GameSense.com.