Internet Explorer support ending
As of January 1st, 2020, PlayNow.com no longer provides browser support for IE 11. If you choose to use IE 11 we cannot guarantee you will be able to login or use the site. We advise you switch to the latest version of either Edge, Firefox or Chrome.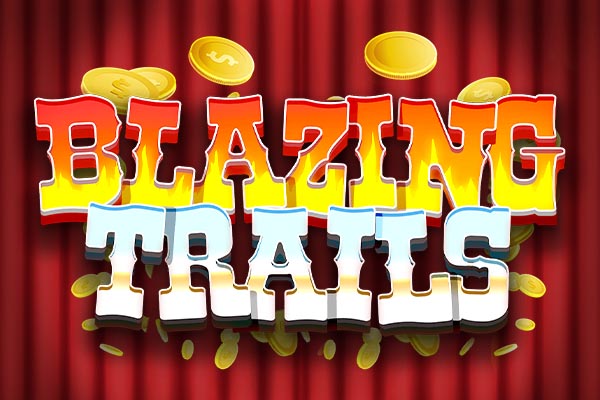 Game type: Slots
Bonus round: Yes
Game Description
Blazing Trails is a 5 reel random slot game based on a western frontier theme!
Progressive Cashpots
There are three progressive cashpots which are labelled Emerald(Green), Ruby(Red) and Diamond(Blue). During each spin a proportion of the money staked is added to each cashpot. Each pot will also have a base re-seed value. The cashpot seeded values are as follows:
Emerald Progressive Cashpot: seeded at 500
Ruby Progressive Cashpot: seeded at 2,000
Diamond Progressive Cashpot: seeded at 10,000
Each winning progressive will be delivered via the Map Bonus Game scatter bonus.
The progressive cashpots consists of a fixed minimum amount which gradually increases by a percentage of funds inputted into the game until it is won. When a cashpot is won, it is reset to the seed amount and begins to rise again.
Features
Sheriff Badge (Blue Bonus Scatter symbol ): If 3 or more Sheriff Badge symbols land then the Freespins feature is triggered. 3 symbols give 10 freespins, 4 symbols give 20 freespins and 5 symbols give 30 freespins. During the feature two wild symbols will be locked into place on the middle row on reel 2 and 4.
Mini Slot Bar Game (Red bonus Scatter symbol) : The Yellow "Mini Slot" bonus symbol appears on only reels 2 3 and 4. When three symbols are in view this triggers the Mini Slot Bonus. The player is awarded 3, 5 or 10 spins. The mini slot has 3 spinning wheels each with 9 evenly spaced symbols (diamond, spade, heart). The game is started by pressing spring plunger at the bottom right of the game screen. When the wheels stop spinning the symbols that are aligned under the top stopper arrow are the results of the game. The player is awarded the bet amount multiplied by the multiplier indicated by the matching symbol sequences on the legend that is on the left-hand side.
Map Bonus Game (Yellow bonus Scatter symbol): The Map game is triggered by 3 yellow compass symbols landing on reels 1, 3 & 5. The bonus game theme is the salesman being chased out of town. The players choose one of the three trails. A trail will hold a chest where a cash value will be awarded and sometimes a gem is won. If the player gets a collection of 3 of the same coloured gem, then the player will win the associated Progressive Jackpot.
How to Play
How to Play Blazing Trails [204KB]