Internet Explorer support ending
As of January 1st, 2020, PlayNow.com no longer provides browser support for IE 11. If you choose to use IE 11 we cannot guarantee you will be able to login or use the site. We advise you switch to the latest version of either Edge, Firefox or Chrome.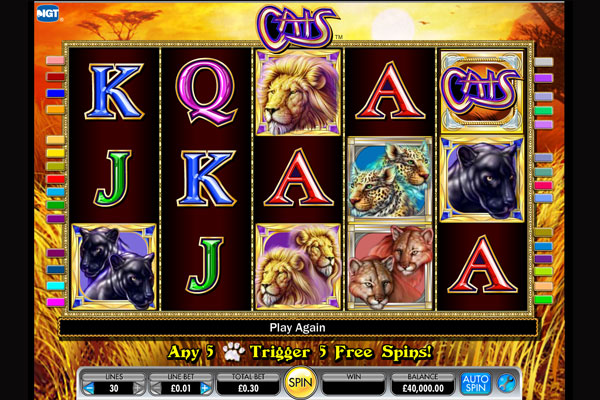 Cats. The online slot game that's a wild jungle of winning.
Experience the online slot game that's a rich land filled with wild Cats. Choose up to 30 paylines and enjoy the exciting Split Symbols feature that gives you the potential for both lots of wins and big wins, too. When you get 5 or 6 scatter Paw Prints anywhere on the middle three reels, you'll enter the Free Spins Bonus and enjoy 5 or 10 Free Spins depending on the number of triggering Paw Prints. Cats is the online slot game that's a jungle of winning.
How to play Cats online slot game.
Enter the wild jungle of winning! Playing this online slot game is easy. The Cats online slot game has five reels, three rows and up to 30 paylines. This game includes Free Spins, Wilds and Split Symbols that make the winning even wilder.
How to place a bet :
The Cats online slot game allows you to adjust your paylines to 1, 3, 5, 9, 15 or 30. You can press the (+) or (-) in the Lines box to select your desired number. The Line Bet box displays your current bet per line. You can press the (+) or (-) buttons to increase or decrease your bet per line. When your bet configuration is ready, simply press the Spin button to submit your bet and spin the reels.
Game details :
Cats online slot game features up to 30 paylines. Each cat symbol comes in two varieties: single symbols and double symbols. Single symbols have one cat on them. Double symbols have two of the same cat on them. There are single and double versions of each cat on every reel. Winning outcomes are based on the number of matching Cats on a payline (from left to right), not just the number of matching symbols. Enjoy wins by getting as few as three matching Cats and as many as ten matching Cats for huge wins. Similarly, you can win a 3-symbol pay or even a 4-symbol pay on just the first two reels.
4-symbol pay on just the first two reels.
The exciting Split Symbols feature is enhanced by the Cats Logo symbol. The Cats Logo symbol is wild and can substitute for the highest-paying cat symbol or highest-paying royal symbol that completes a win. When substituting for a cat symbol, Cats Logo symbols are always evaluated using the Split Symbols feature, which makes these wild symbols extremely valuable.
Free Spins
If you receive five or six scatter Paw Prints anywhere on reels two, three, or four this will trigger the Free Spins Bonus. Just like the other Cats symbols, Paw Prints appear either as single symbols or double symbols which use the Split Symbols feature. Two Double Paw Print symbols and one Single Paw Print symbol equal five Paw Prints. Three Double Paw Print symbols equal six Paw Prints. Paw Print symbols appear only on reels two, three and four of the main game. There are no Paw Print symbols on the Free Spins Reels.
More scatter Paw Prints in the main game trigger more Free Spins. If you get five scatter Paw Prints, you get five Free Spins. Get six scatter Paw Prints and earn ten Free Spins. Free Spins are played at the same line bet and the same number of lines as the triggering game. These Free Spin Bonus reels are worth several times more than the main game reels. For example, on Free Spins reel one, all cat symbols are double symbols. In other words, there are no single versions of these symbols on the first reel during Free Spins.
Why is PlayNow the best place to play online slots?
Safe and secure online slots.
PlayNow delivers a safe and secure online slots playing experience. We are committed to player protection and game integrity. BCLC understands how important information security and privacy are to you and we are committed to helping you keep your PlayNow.com experience secure and private. We use state-of-the-art technology and follow numerous security procedures to protect the information contained in your PlayNow.com account. All players must be 19 years of age or older to play.
Online slot games help give back to BC.
The Province of B.C. founded BCLC over 30 years ago with the purpose of giving back to British Columbia and helping communities grow. PlayNow.com is part of this same corporation which oversees BC Casinos and Lottery in your local retailers. This means that revenue generated through PlayNow.com is invested in the province to support programs and services from health care and education to social services and infrastructure projects. When you play with BCLC, you Play It Forward.
Topic : Online Slots
How to Play
How to Play Cats [195KB]