Internet Explorer support ending
As of January 1st, 2020, PlayNow.com no longer provides browser support for IE 11. If you choose to use IE 11 we cannot guarantee you will be able to login or use the site. We advise you switch to the latest version of either Edge, Firefox or Chrome.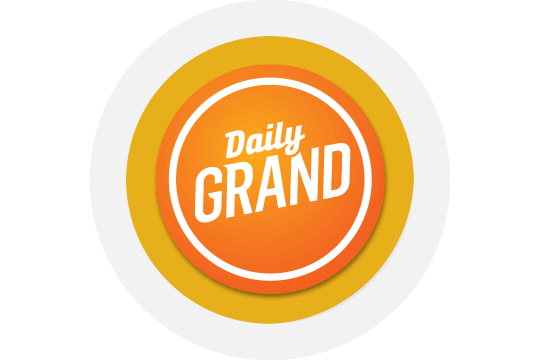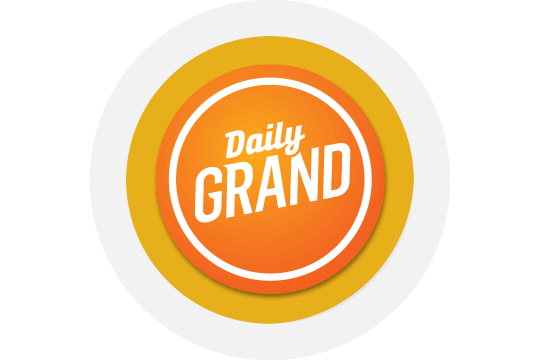 Daily Grand
The national lottery game with a top prize of $1,000 a DAY for LIFE!
Draws every Monday and Thursday night. Tickets sold until 7:30 pm PT.
 Supplemental Game Conditions
About Daily Grand
Daily Grand gives you a chance to win a daily $1,000 prize for the rest of your life with draws every Monday and Thursday! And that's just the top prize. The secondary prize gives you a chance to win $25,000 a Year for Life.
For each $3 play, you will receive one Selection of 5 main numbers from 1-49 and one additional GRAND NUMBER between 1 and 7. With Daily Grand, you can Choose Numbers or for an easier way to play try Quick Pick. To bundle Daily Grand with other favourite lottery games, try a Quick Pick Package
How To Play Daily Grand
Select a Game or choose a Quick Pick Package to begin. Quick Pick Package contents cannot be edited but if you select a game you can customize your purchase as much as you'd like!
If you selected a Daily Grand, you can set up to 10 plays per transaction. You can also add another game to this purchase. Next, decide if you would like to choose your own numbers or Quick Pick. With Quick Pick, your numbers are randomly selected for you. Don't forget to add the Extra for $1 per play and the chance to win $500,000!
Selecting more than one draw means you are setting up a Lottery Subscription and as long as you have sufficient funds in your account, we will purchase the upcoming draws for you! Setting up a Lottery Subscription is the easiest way to be sure that you never miss your chance at a jackpot.
Your purchased Lottery tickets will save in your account and we will email you if you win! If you win a Free Play on PlayNow, it will automatically be redeemed as a ticket for the upcoming draw.
Choose Numbers
Choose up to 10 Selections using the drop-down.
Select the Choose Numbers button.
Use the number board to select your own numbers or select Auto Pick button to randomly generate 5 main numbers and the GRAND NUMBER. If you have more than one Selection, the number board will automatically close for the completed Selection and move to the next one.
Select the Next button once you complete your Selections.
Add up to 10 Extras using the drop-down.
Select the number of draws you wish to purchase. You may purchase for a single draw, or multiple draws.
Select the Purchase button to confirm and you'll see your tickets with the numbers.
Quick Pick Packages
Select the Quick Pick Package you wish to purchase. Selecting the Quick Pick Package will direct you to the confirmation page where your Package details will be listed.
Note: You cannot modify Quick Pick Package details.
Select Purchase to confirm and you'll see your tickets with all the numbers.
Lottery Subscriptions
With Lottery Subscriptions you can subscribe for the next 1, 2, 10, 52 or 104 DAILY GRAND draws. Selecting 'Never Miss a Draw' will subscribe you to an unending number of draws until you decide to stop your Subscription. Learn more about Lottery Subscriptions.
Checking Your Tickets
Any lottery ticket you purchase on PlayNow is saved in your account. Any winning lottery ticket purchased on PlayNow will result in the winning amount being deposited to your PlayNow account. Visit the My Tickets page at any time to view the tickets you've purchased and to see if you've won!
Daily Grand Prizes & Odds
Odds of winning any prize are approximately 1 in 6.8.
| Match | Prize Amount | Odds* / $3 Play |
| --- | --- | --- |
| 5/5 + 1/1 | $1,000 a DAY for LIFE or single lump sum cash payment of $7,000,000 | 1 in 13,348,188 |
| 5/5 + 0/1 | $25,000 a YEAR for LIFE or single lump sum cash payment of $500,000 | 1 in 2,224,698 |
| 4/5 + 1/1 | $1,000.00 | 1 in 60,674 |
| 4/5 + 0/1 | $500.00 | 1 in 10,112 |
| 3/5 + 1/1 | $100.00 | 1 in 1,411 |
| 3/5 + 0/1 | $20.00 | 1 in 235.2 |
| 2/5 + 1/1 | $10.00 | 1 in 100.8 |
| 1/5 + 1/1 | $4.00 | 1 in 19.7 |
| 0/5 + 1/1 | $3 Free Play | 1 in 12.3 |
* Approximate Odds
Odds of winning any prize per $1 Extra play are 1 in 6.5
| Match | Win | Chances to Win Per Selection |
| --- | --- | --- |
| 4/4 | $500,000 | 1:3,764,376 |
| 3/4 | $1,000 | 1:9,906 |
| 2/4 | $10 | 1:141 |
| 1/4 | $1 | 1:6.8 |
DISCLAIMER: In the event of a discrepancy between the results posted on this site and the official BCLC winning numbers report, the latter shall prevail.