Internet Explorer support ending
As of January 1st, 2020, PlayNow.com no longer provides browser support for IE 11. If you choose to use IE 11 we cannot guarantee you will be able to login or use the site. We advise you switch to the latest version of either Edge, Firefox or Chrome.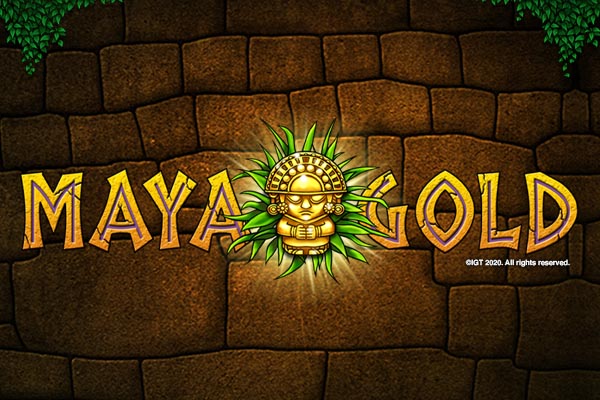 Game type: Slots
Free spin: Yes
Game Description
Travel deep into the rainforest in search of ancient treasure in Maya Gold! Extend your journey and increase your winnings further by triggering an exciting bonus game: the Free Spins Bonus or the Mini Slot Bonus. Collect points with each Bonus symbol that appears on reel 5 and unlock the special Memory Bonus!
Free Spins Bonus
3x5 spinning reels
25 paylines
Retrigger the Free Spins Bonus multiple times, up to a maximum of 1,000 free spins per bonus
All payline wins during free spins are doubled
Newly awarded free spins, bonus points, and Memory Bonus and Mini Slot Bonus wins are not doubled
Memory Bonus
Triggered when 1,000 points are collected
A 2x multiplier and pairs of 7 different values are hidden behind 15 stone slabs
The player has 4 rounds to find the best matching pair of values behind the slabs
On each round, the player makes two picks to find matching values
If the two picks do not match, the stone slabs turn back over. On the next rounds, the player can strategically choose whether to match pairs of values previously revealed or search for higher values.
If a 2x is revealed, it matches and doubles the value of the other pick
The bonus ends when a match is made or when 4 rounds are completed
Mini Slots Bonus
Triggered by 3 or more Mini Slot symbols on any active payline.
If triggered by 3 Mini Slot symbols, 1 spin of the Mini Slot is awarded
If triggered by 4 Mini Slot symbols, 2 spins of the Mini Slot are awarded
If triggered by 5 Mini Slot symbols, 3 spins of the Mini Slot are awarded
Can trigger during the base game and during the Free Spins Bonus.
How to Play
How to Play Maya Gold [204KB]