Internet Explorer support ending
As of January 1st, 2020, PlayNow.com no longer provides browser support for IE 11. If you choose to use IE 11 we cannot guarantee you will be able to login or use the site. We advise you switch to the latest version of either Edge, Firefox or Chrome.
Mr. Monopoly is back with another twist in our newest casino game, Monopoly Electric Wins!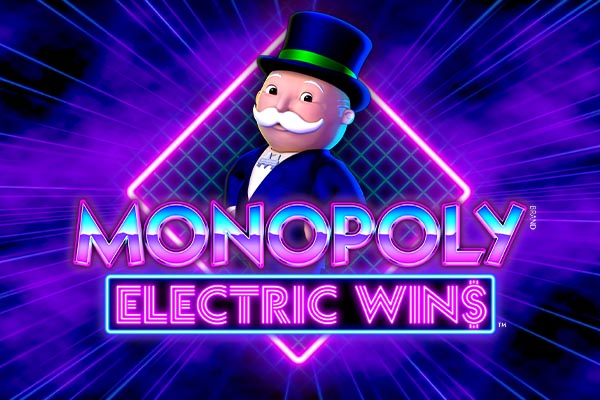 Game type: Slots
Free spin: Yes
Game Description
Monopoly Electric Win$™ features Free Spins Bonus, Free Parking Feature, Chance Feature, Community Chest Feature, Railroad Feature, Luxury Tax Feature, Waterworks Feature, Electric Bulb Feature and Wild X2!
Board Feature
Each bet level corresponds to a board state. If the bet changes, the board state will change to the corresponding board state for that bet level.
Each time the SPIN button is pressed, the reels spin and 2 dice are thrown.
The player moves on the board according to the number obtained on the dice.
When the player lands on an unowned property, the property is marked as "owned".
All properties of the same colour must be "owned" before any property development can take place.
Developments do not need to be uniform across the property set. For example, a set can have 1 hotel on a property, 1 house on another, etc.
Once a player owns all properties in a colour set, they build houses by landing on a property in the owned set. Houses are built one at a time. After 4 houses are built, the subsequent development is a hotel. One (1) hotel is the maximum development for any given property.
How to Play
How to Play Monopoly Electric Wins [204KB]