Internet Explorer support ending
As of January 1st, 2020, PlayNow.com no longer provides browser support for IE 11. If you choose to use IE 11 we cannot guarantee you will be able to login or use the site. We advise you switch to the latest version of either Edge, Firefox or Chrome.
Voluntary Self-Exclusion
If you find yourself gambling too much, or if it no longer feels like a game, BCLC's Voluntary Self-Exclusion program can be an important first step in helping you to regain control over your gambling. By enrolling in the program, you voluntarily exclude yourself from gambling on PlayNow.com.
Voluntary Self-Exclusion
Below are some frequently asked questions about Voluntary Self-Exclusion. If you would like more information about the VSE program or would like assistance with the online enrolment process, you can contact PlayNow Support at 1-877-706-6789.
What happens once I sign up?
If you choose to be excluded from PlayNow, BCLC will cancel your Player Account and pay out any unredeemed PlayerCash once you have completed the online form. Any promotional funds that have been credited to your account can no longer be redeemed.
How long will I be self-excluded?
The length of the exclusion is up to you. Choose from:
6 months
1 year
2 years
3 years
When will self-exclusion start?
Self-exclusion starts the moment you sign up and lasts for the period of time chosen by you. Voluntary self-exclusion can be extended, but cannot be terminated prior to the original expiry date.
Voluntary self-exclusion from gaming facilities
If you would like more information about how to voluntarily exclude yourself from playing at gambling facilities such as casinos and community gaming centres, learn more at GameSense.ca.
Where to find help
Those who participate in counselling along with a self-exclusion program have a much higher likelihood of successfully regaining control over their gambling behaviour.
At any time – 24/7 – you can call the BC Gam Info Line (1-888-795-6111) , which offers free, confidential, multilingual services to British Columbians struggling with their own or family member's gambling. Through the BC Gam Info Line, you can be linked with individual problem gambling counselling, debt/financial counselling or other help resources and services
For more information on free debt counselling, please visit the B.C. Credit Counselling Society at www.NoMoreDebts.org .
For more information about problem gambling resources, please visit www.bcresponsiblegambling.ca .
Sign-up Process
Below you will find instructions on how to sign-up for the VSE program:
Finding VSE:
Go to "My Account"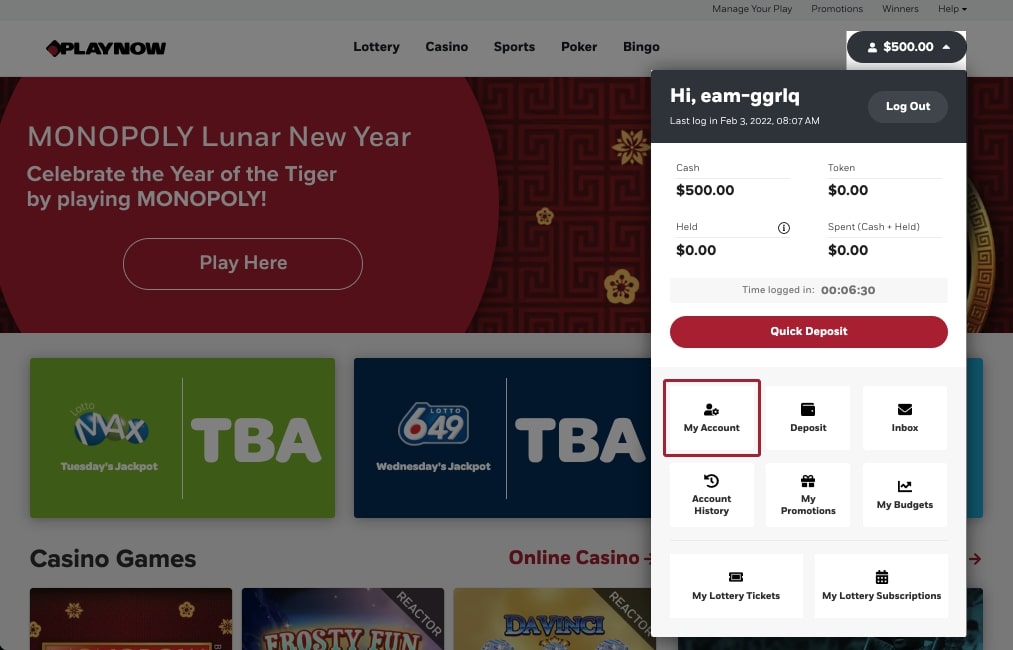 Click on "Self-Exclusion"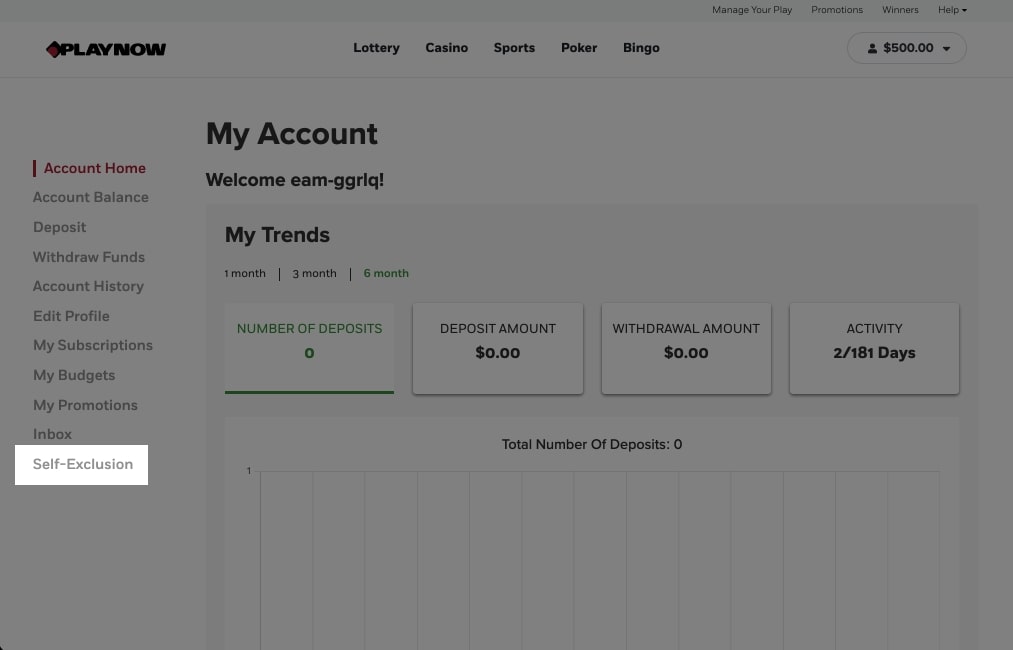 Step 1:
Choose the length of your self-exclusion.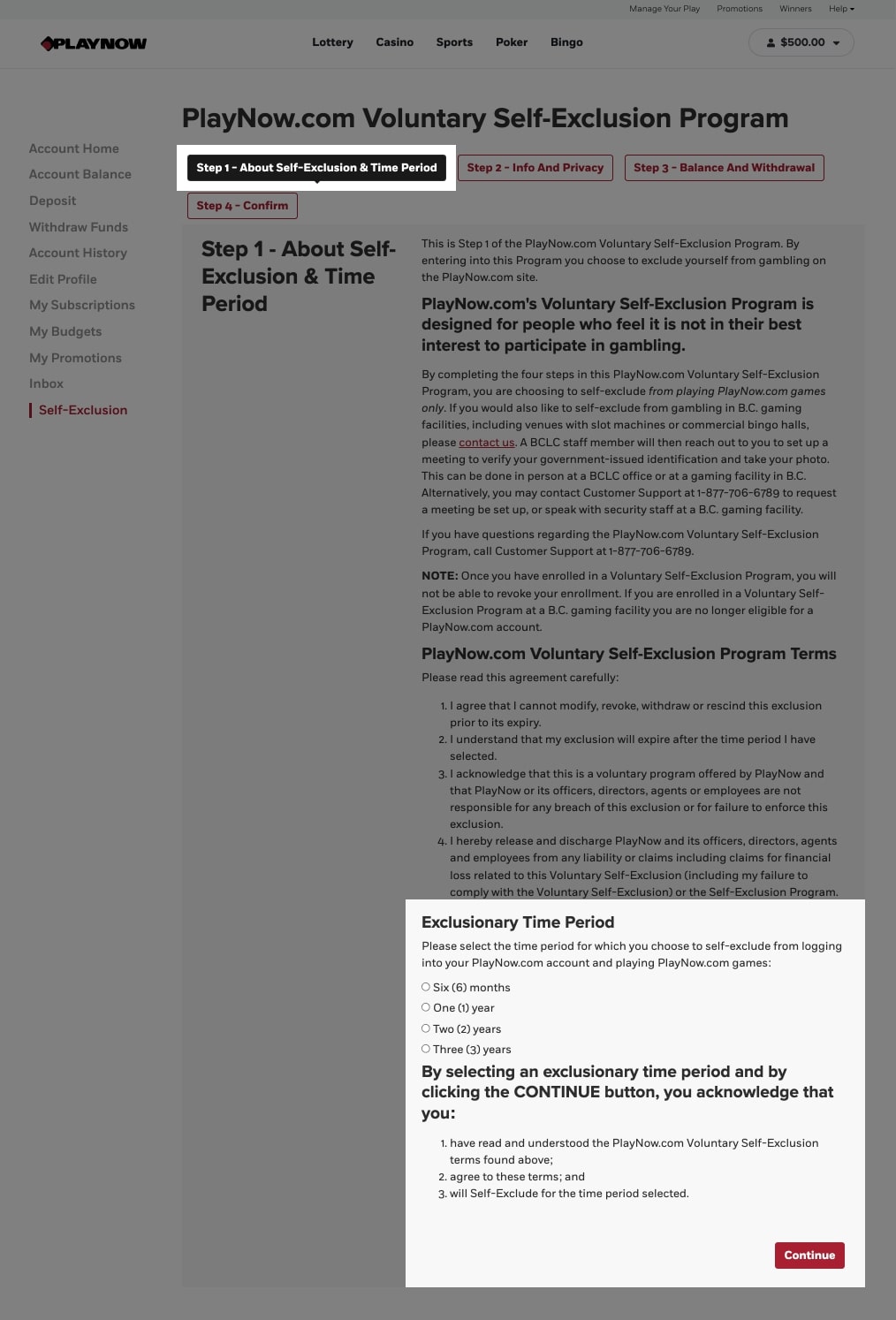 Step 2:
Read and acknowledge the Personal Info and Privacy Policy.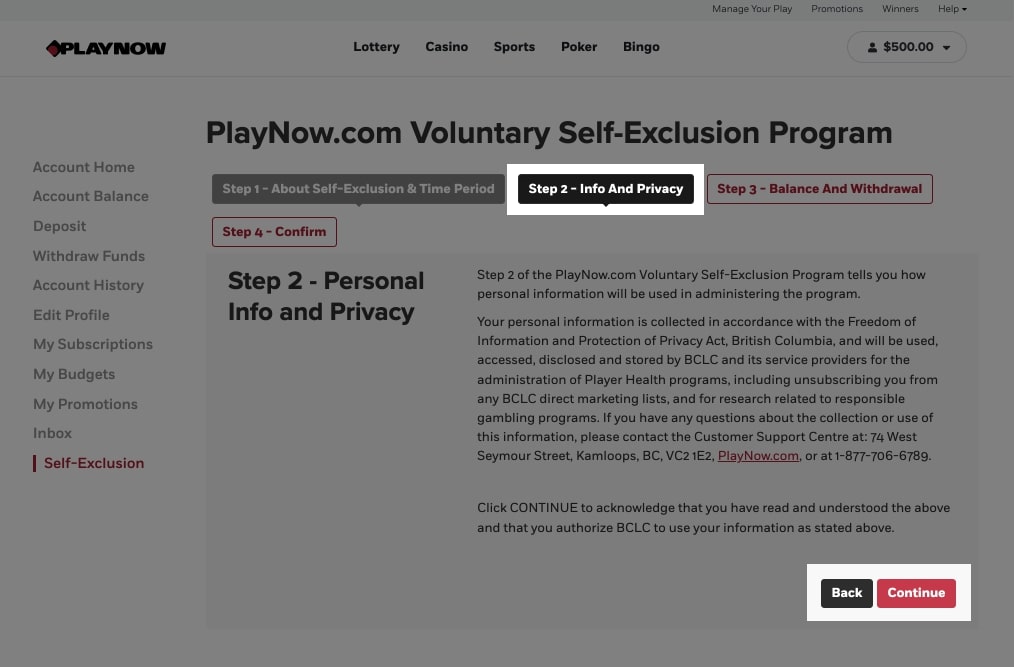 Step 3:
Confirm your cash balance and account information.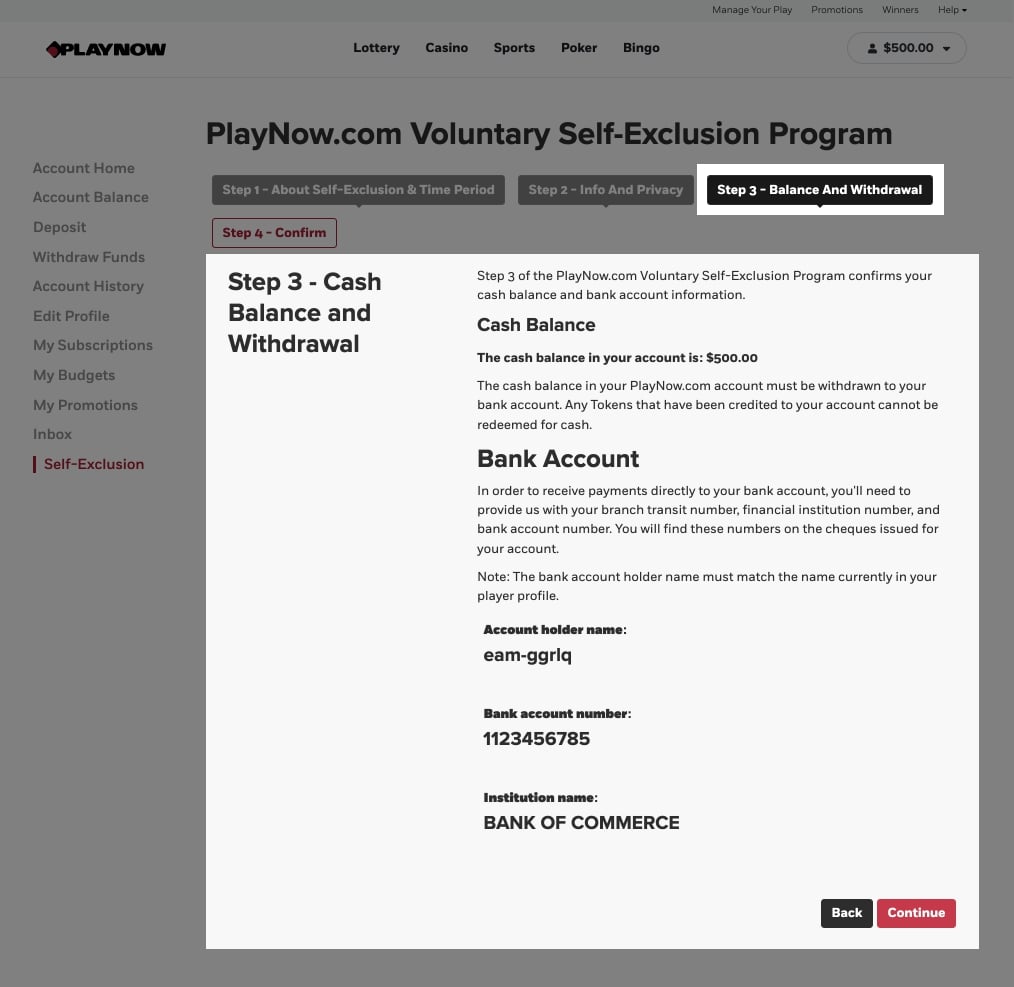 Step 4:
Review all of the information you provided and click on "confirm" to verify the agreement and complete the process.