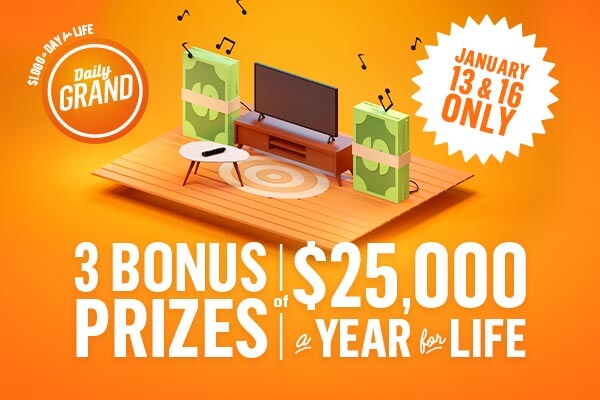 Introducing Bonus Draws
For a limited time only, Daily Grand is bringing more chances to win $25,000 a Year for the rest of your life.
Every $3 Daily Grand ticket purchased for either the December 6th or December 10th draw is automatically entered for the Daily Grand Bonus Draws!
The New National Lotto Game
You could win $1,000 dollars a day for the rest of your life and with the December 6th and December 10th draws, you will have even more chances to win!
Since Daily Gran's launch, 11 top prizes of $1,000 a Day for Life, 75 secondary prizes of $25,000 a Year for Life, and 18 Bonus Draw prizes of $25,000 a Year for Life have been won across Canada! (As of November 12, 2018).
Past BC Daily Grand Top and Secondary Prize Winners
George K.
Vancouver
$500,000
Sept 20, 2018 Draw
Robert P.
Kelowna
$500,003
Sept 20, 2018 Draw
Sukhwinder S.
Surrey
$500,003
Sept 17, 2018 Draw
George P.
Richmond
$250,000
August 13, 2018 Draw
Leo & Laurie P.
Coquitlam
$500,000
March 15, 2018 Draw
Michael J.
Prince George
$7,000,000
January 29, 2018 Draw
More Info

Bonus Draw Game Conditions [240KB]

PlayNow.com Player Agreement [40KB]
Frequently Asked Questions
This promotion is open to residents of BC and MB who are of legal age to gamble.
DISCLAIMER: In the event of a discrepancy between the posted conditions on this site and the official conditions, the latter shall prevail.