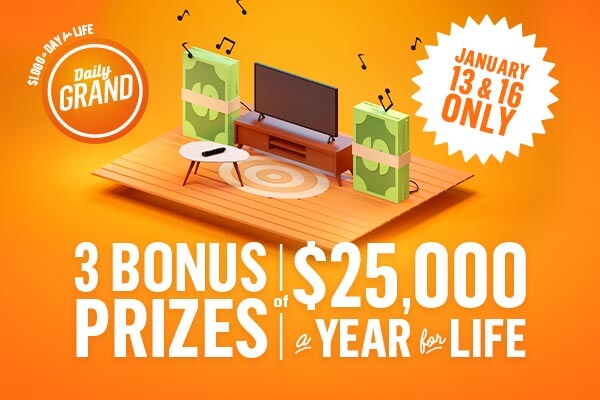 Introducing Bonus Draws
For a limited time only, Daily Grand is bringing more chances to win $25,000 a Year for the rest of your life.
Every $3 Daily Grand ticket purchased for either the September 17th or September 20th draw is automatically entered for the Daily Grand Bonus Draws!
The New National Lotto Game
You could win $1,000 dollars a day for the rest of your life...and with the next two draws, you will have even more chances to win!
Since Daily Grand's launch, 11 top prizes of $1,000 a Day for Life, 62 secondary prizes of $25,000 a Year for Life, and 13 Bonus Draw prizes of $25,000 a Year for Life have been won across Canada! (As of August 8, 2018).
Past BC Daily Grand Top and Secondary Prize Winners
George P.
Richmond
$250,000
Aug 13, 2018 Draw
Leo & Laurie P.
Coquitlam
$500,000
Mar 15, 2018 Draw
Michael J.
Prince George
$7,000,000
Jan 29, 2018 Draw
David M. & Kieran F.
Kelowna
$250,000
Dec 4, 2017 Draw
Leonard M.
Ford St. James
$500,000
Aug 31, 2017 Draw
Elaine R.
Nanaimo
$500,000
Aug 24, 2017 Draw
More Info

Bonus Draw Game Conditions [240KB]

PlayNow.com Player Agreement [40KB]
Frequently Asked Questions
This promotion is open to residents of BC and MB who are of legal age to gamble.
DISCLAIMER: In the event of a discrepancy between the posted conditions on this site and the official conditions, the latter shall prevail.