Internet Explorer support ending
As of January 1st, 2020, PlayNow.com no longer provides browser support for IE 11. If you choose to use IE 11 we cannot guarantee you will be able to login or use the site. We advise you switch to the latest version of either Edge, Firefox or Chrome.
A PlayNow Sports player turned a $50 wager into over $14,000 in winnings with a 10-way parlay!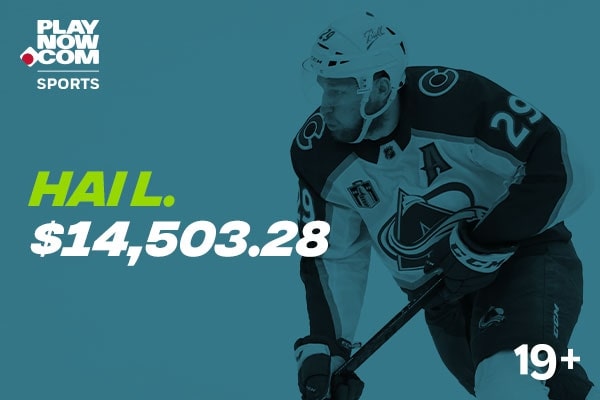 Congratulations Hai!
One PlayNow Sports player was right on the money line with a recent parlay, turning a $50 wager into $14,503.28 in winnings betting on baseball and hockey last month.
Hai L. correctly hit on all 10 money line picks (selecting each team to win their respective game) to turn this wager into a winner. Most of those selections were on the diamond, but this wager did involve correctly picking the Colorado Avalanche to win Game 4 of their Stanley Cup Final matchup with the Tampa Bay Lightning.
The Lightning had a 2-1 lead entering the third period, but the Avalanche overcame that deficit before winning in overtime, taking a 3-1 series lead before eventually winning the Stanley Cup a few nights later.
| | | | |
| --- | --- | --- | --- |
| Match Up | Market | Selection | Odds |
| Colorado Avalanche @ Tampa Bay Lightning | Money Line | Avalanche | 1.87 |
| New York Mets @ Houston Astros | Money Line | Astros | 1.74 |
| Toronto Blue Jays @ Chicago White Sox | Money Line | Blue Jays | 1.80 |
| Philadelphia Phillies @ Texas Rangers | Money Line | Rangers | 2.15 |
| Los Angeles Dodgers @ Cincinnati Reds | Money Line | Dodgers | 1.56 |
| Washington Nationals @ Baltimore Orioles | Money Line | Orioles | 1.69 |
| Detroit Tigers @ Boston Red Sox | Money Line | Red Sox | 1.63 |
| New York Yankees @ Tampa Bay Rays | Money Line | Yankees | 1.69 |
| San Francisco Giants @ Atlanta Braves | Money Line | Braves | 1.83 |
| Seattle Mariners @ Oakland Athletics | Money Line | Mariners | 1.74 |
There were a couple of close calls among the baseball selections of this parlay, too.
The New York Yankees overcame a three-run deficit to defeat Tampa Bay by a score of 5-4, and the Atlanta Braves scored three runs in the bottom of the ninth inning for a come-from-behind 4-3 victory over the visiting San Francisco Giants.
PlayNow Sports offers a Bet-Back Bonus for MLB games every Wednesday and Sunday during the regular season! Place a pre-game bet of four or more selections on Wednesday or Sunday MLB 'Money Line' markets. Bets with a maximum value of $100 and with only one losing selection qualify for the Bet-Back Bonus.
Don't lead off too far with your gambling – use PlayNow play management tools to stay close to the bag. If you gamble, use your GameSense. Must be 19+ to play.
BCLC offers socially responsible gambling entertainment while generating income to benefit British Columbians. Remember, play for fun, not to make money. For more information, visit GameSense.com.