Internet Explorer support ending
As of January 1st, 2020, PlayNow.com no longer provides browser support for IE 11. If you choose to use IE 11 we cannot guarantee you will be able to login or use the site. We advise you switch to the latest version of either Edge, Firefox or Chrome.
Luke M. of Vancouver is the winner of the Canucks Fanuary VIP game experience!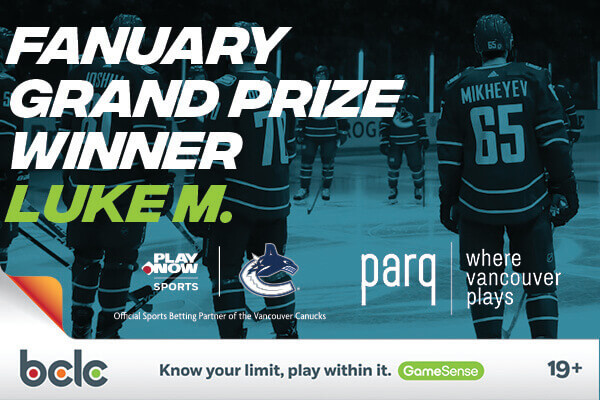 Congratulations Luke!
Luke M. of Vancouver is about to get the VIP treatment!
Luke was the winner of the Canucks Fanuary grand prize draw earlier this month as the second annual edition of the contest officially wrapped up.
Luke will now get the Fanuary VIP experience, starting with ten tickets in the Centre Ice Suite to the Canucks game against the Philadelphia Flyers on Saturday.
"It is awesome," said Luke. "I thought it would be a jersey or something, so this is much better."
Luke also wins a one-night stay at Parq Vancouver, $500 in freeplay credit at Parq Vancouver and a $200 freeplay voucher on PlayNow.com.
Luke entered the contest on PlayNow.com by wagering on NHL games during the month of January.
PlayNow members could enter the contest by placing a minimum $5 wager on any NHL game from January 1 – 31 at PlayNow Sports, or by placing a $1 wager on Canucks Keno, Canucks 3-Hand Blackjack, Canucks Reactor Super Trail or Canucks Wilds on PlayNow.com.
In total, there were 14 different prize packages – including tickets to Canucks games, exclusive merchandise and freeplay vouchers or credits on PlayNow.com and Parq Vancouver – delivered to PlayNow members who won the designated prize draws throughout the contest period.
So, how will Luke enjoy the VIP game experience?
"I will probably get a bunch of friends together," said Luke. "A bunch of us are big Canucks fans. Last year was the last time I went (to a Canucks game). Definitely excited. I have never been in a suite before."
PlayNow Sports is the official sports betting partner of the Vancouver Canucks.
Not every shot is a goal. Not every bet is a winner. If you gamble, use your GameSense. Must be 19+ to play.
BCLC offers socially responsible gambling entertainment while generating income to benefit British Columbians. Remember, play for fun, not to make money. For more information, visit GameSense.com.