Internet Explorer support ending
As of January 1st, 2020, PlayNow.com no longer provides browser support for IE 11. If you choose to use IE 11 we cannot guarantee you will be able to login or use the site. We advise you switch to the latest version of either Edge, Firefox or Chrome.
Vancouver Whitecaps FC flew Peter and Jean-Francois to Toronto after they won the Fan Flight Contest!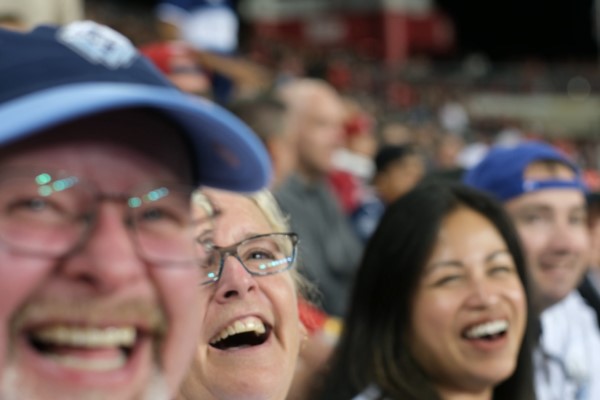 Congratulations Peter and Jean-Francois!
Peter D. and Jean-Francois A. got quite the fan experience from PlayNow Sports and the Vancouver Whitecaps FC.
Peter and Jean-Francois won the chance to get flown out by the Caps for the Fan Flight Contest.
The two winners brought a plus-one to the exclusive experience, Peter brought Leah and Jean-Francois brought Ella. All four flew with the Whitecaps FC to Toronto and watched their team in an away match at BMO Field.
All the winners received flights and a one-night hotel stay. Exclusive pre-match access at BMO Field, Custom Whitecaps FC Jerseys, and of course tickets to the match.
The winners had a day to check out the city of Toronto. Jean-Francois and Ella spent their time on the CN Tower and sightseeing. Peter and Leah spent it watching the Blue Jays beat the Red Sox in extra innings!
Then, they were able to tour BMO field. From the suite views down to the pitch, the winners could walk through the stadium before the fans filled the stands.
PlayNow members entered the contest by entering the promo code FANFLIGHT. Then, place a minimum $5 wager on any sport from June 23rd – July 23rd at PlayNow Sports.
PlayNow Sports is the official sports betting partner of the Vancouver Whitecaps FC.
Not every shot is a goal. Not every bet is a winner. If you gamble, use your GameSense. Must be 19+ to play.
BCLC offers socially responsible gambling entertainment while generating income to benefit British Columbians. Remember, play for fun, not to make money. For more information, visit GameSense.com.