Internet Explorer support ending
As of January 1st, 2020, PlayNow.com no longer provides browser support for IE 11. If you choose to use IE 11 we cannot guarantee you will be able to login or use the site. We advise you switch to the latest version of either Edge, Firefox or Chrome.
Cliff S. of Coquitlam wins PlayNow Sports grand prize draw for BC Lions 2023 season tickets!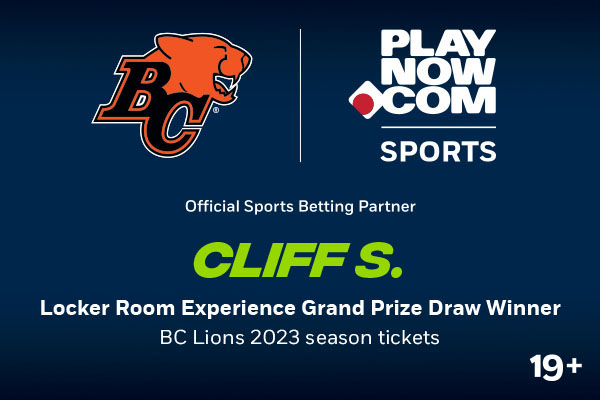 Congratulations Cliff!
Congratulations Cliff!
Imagine being at work and getting the call: "You've won BC Lions season tickets!"
For one PlayNow Sports player, that became a reality.
Cliff S. of Coquitlam became the recipient of a pair of BC Lions 2023 season tickets after winning the grand prize draw for the PlayNow Sports Locker Room Experience that took place at the Lions home game against the Saskatchewan Roughriders on Aug. 26.
Cliff attended the game and swung by the Locker Room Experience to check out the festivities – which included a meet and greet with Lions legends Sean Millington and Lui Passaglia, as well as opportunities to spin the prize wheel to win freebet vouchers, food and beverage vouchers, and BC Lions and PlayNow Sports swag – before putting his name into the draw.
"I was super excited" to get the call that he had won the grand prize draw, Cliff said in an interview with BCLC.
A fan of the Lions during his younger days, Cliff said that with his new season ticket package, he'll plan to bring his son to some games next season, as well as one of his friends he described as a "die hard fan."
Cliff says he enjoys his experience with PlayNow Sports, particularly when it comes to betting on football.
"I usually play NFL on the Sundays on PlayNow. Absolutely," he said.
In addition to the grand prize draw, three other winners from the contest each received a pair of club seats to BC Lions games, including the regular season home finale on Oct. 15 against the Winnipeg Blue Bombers.
The Lions will host the Calgary Stampeders in the West Division semifinal at BC Place Stadium on Nov. 6. The Lions currently have the third best odds on PlayNow.com to win the Grey Cup.
PlayNow Sports is the official sports betting partner of the BC Lions.
Running and passing plays each have their purpose in a game. Each wager you make should also have a purpose: so you can enjoy the game. If you gamble, use your GameSense. Must be 19+ to play.
BCLC offers socially responsible gambling entertainment while generating income to benefit British Columbians. Remember, play for fun, not to make money. For more information, visit GameSense.com.