Internet Explorer support ending
As of January 1st, 2020, PlayNow.com no longer provides browser support for IE 11. If you choose to use IE 11 we cannot guarantee you will be able to login or use the site. We advise you switch to the latest version of either Edge, Firefox or Chrome.
A two-way parlay on MLB Games turned into more than $5,300 for one PlayNow Manitoba player!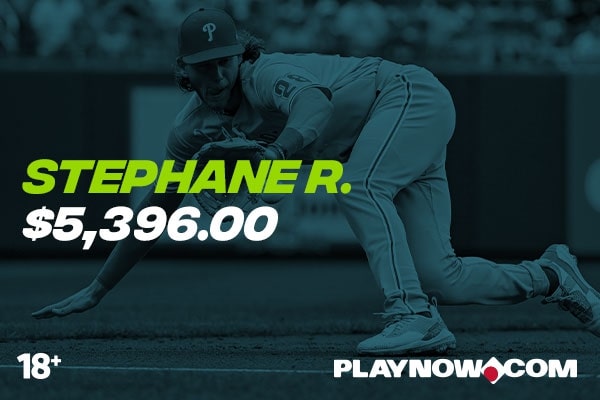 Congratulations Stephane!
One PlayNow Manitoba digs low-scoring baseball games – at least they did earlier this month after winning more than $5,300 on a two-way parlay.
Stephane R. wagered only a single dollar on the parlay of Race to Two Runs selections from the Los Angeles Angels – Baltimore Orioles game and Philadelphia Phillies – St. Louis Cardinals game on July 9. In the Race to Two Runs market, players are given three selections – the home team, the away team, and neither.
In this case, the player selected Neither for both games.
Simply placing a single bet of Neither on the Angels-Orioles game would have had odds of 71.00 on PlayNow. Combine those odds with the odds of 76.00 for a selection of Neither from the Phillies – Cardinals game, and suddenly the odds of this parlay hitting jumped to 5,396.00.
In both games, the final score ended up 1-0, with the Orioles defeating the Angels and the Phillies defeating the Cardinals, turning this $1 wager into $5,396.00 in winnings!
The Major League Baseball regular season schedule resumed Thursday following the All-Star break.
The New York Yankees are favourites to win the World Series, with odds of 4.25 at PlayNow.com, followed by the Los Angeles Dodgers (4.50) and Houston Astros (5.50). The Toronto Blue Jays currently have World Series odds of 18.00 at PlayNow.com.
18+ Enjoy Responsibly